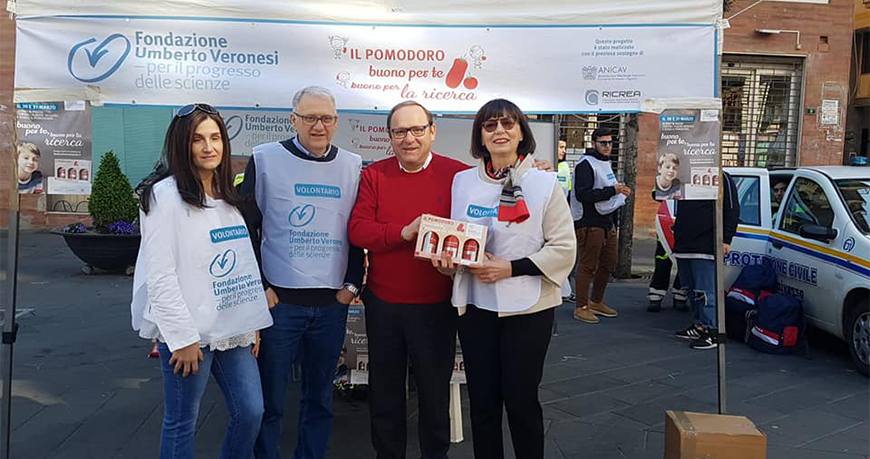 Fratelli D'acunzi srl has always paid particular attention to the territory and to the problems that characterize our society. Social commitment must be a must of the company philosophy and the way of doing business. The well-being of the "Good tomato for you, good for research" project sees us personally committed together with other companies in the area, with the help and support of the National Association of Vegetable Food Preservers (ANICAV), of Veronesi Foundation and the RICREA consortium.



Thanks to the precious support of the 1,200 volunteers involved, "Il Pomodoro. Good for you, good for research ", with the latest event organized in the Italian squares on Saturday 24 and Sunday 25 October, confirms its important support for scientific research against pediatric cancers, also approaching the threshold of 300 thousand euros raised this year. In the numerous distribution points throughout Italy, the volunteers have distributed with a donation of 10 € the packages consisting of three cans of tomatoes: peeled tomatoes, pulp, cherry tomatoes. How much collected thanks to the precious availability of volunteers and the generosity of those donated will allow the Umberto Veronesi Foundation to continue to finance treatment on leukemia, in particular a protocol for acute lymphoblastic leukemia (ALL) which represents 75% of cases of childhood leukemia and in Italy it affects about 350-400 children every year, with a peak between 2 and 5 years of age.



"Thanks to the great sensitivity shown during these two days by our volunteers, donors, by the precious partners Anicav and Ricrea, an important result has been achieved once again in support of scientific research in the field of pediatric oncology. Thanks to the funds raised, we will be able to continue to help the more than 2,000 children who fall ill with cancer every year and never as in this moment of health emergency is there a strong need to find increasingly effective and immediate treatments for the sick of today and tomorrow " - explains Monica Ramaioli, General Manager of the Umberto Veronesi Foundation. It will be possible to continue contributing to the support of scientific research against cancer in children and adolescents by ordering the tomato package on Amazon.it, at the Deliveroo restaurants that have joined the initiative and at our company, by contacting us through the customer support or click here. (e-commerce link).